Our own Frank Allain reveals his typical workday, what he's working on right now, as well as his favourite cheese...
Like many UK businesses, the Installsure team is currently working from home to comply with social distancing measures aimed at stopping the spread of COVID-19 in the UK.
We thought we'd check in with the team to see how they are adjusting to their new work environments. First up: Frank Allain, Head of Operations.

Hi Frank, tell us about your working from home setup.
With both myself and my partner now working from home in our rather 'cosy' flat, I have of course been the gentleman (as ever) and allowed her to commandeer the living room to turn into her temporary working area.
I have utilised the tiny spare room we have which is usually my home music studio area. With this in mind, I am quite used to spending long, isolated hours in this space during my free time anyway so it actually makes sense for this to double as my office.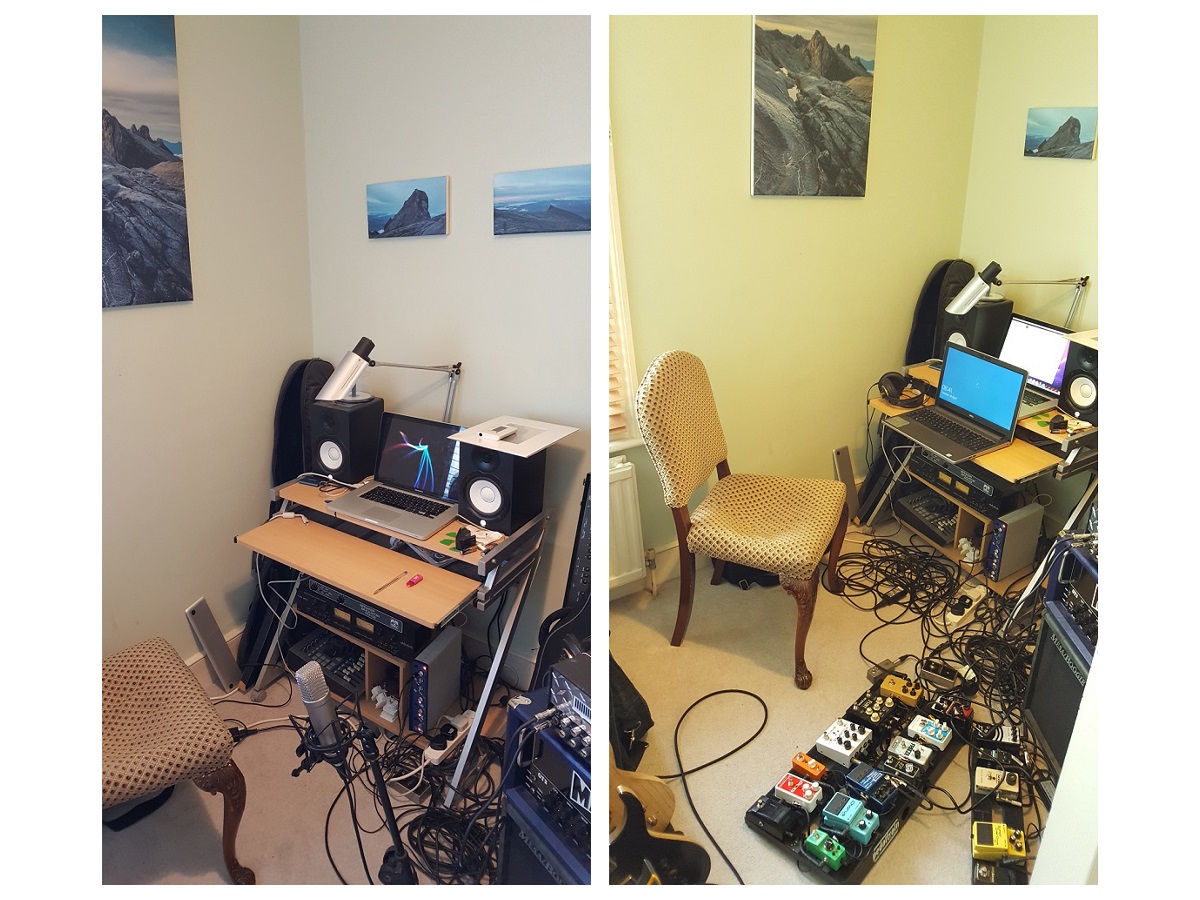 Frank's home music studio, now transformed into a WFH office space.
It's a small space for sure but I only really need access to my laptop and my phone (plus decent internet and VPN connections of course!) to be able to do most of what I would normally do in the office.
It is slightly unusual to have one's world reduce to an 8 foot by 10 foot space for 8 hours a day but it does enable me to get fully immersed in what I'm doing. I can also listen to music when not on calls which is a bonus!

Any WFH routines that have emerged?
As much as is possible, I have stuck to the routines of what I would do on a 'normal' working day in the office. I actually work from home every now and then anyway so I am aware of the importance of maintaining structure, self-discipline and ensuring that some form of sensible routine is applied. Morning cup of tea is at 11am, lunch around 1:30pm, afternoon tea around 3pm etc.
I do need to stand up, stretch my back and have a small walk around every 30-40 minutes as the chair in this room is far from ideal which leads to less-than-stellar posture.
Given the lack of exercise taking place now I am no longer engaged in lengthy walks to/from tube stations, I do aim to fit in half an hour of jogging once the working day is completed – though this is a serious test of willpower to say the least! It has been a long time since I've done any running (my school days) so it really does take it out of my old legs.
In all honesty though, the working routine is much the same as it is on a normal day in the office as far as I can maintain it.

Any advice to share about working from home?
Like I indicated above earlier, I think applying some sort of structure/routine to how you approach your day is of paramount importance. Waking up in good time, showering, getting dressed and confronting the day as if it was a 'normal' day in the office is key for me.
Of course, I wouldn't necessarily extend that to throwing on a suit/tie – though that may well work for some people – but I do believe it's important to ensure that focus and application is maintained.
The other important point is not to get too immersed when work and home life are this closely entwined, I think it is wise to step away every now and then, to 'come up for air' and ensure separation between the person and professional is maintained. Close that laptop when it is time to do so, pick up a book, go for a walk, put on a film, pick up an instrument and take your brain some place else.
Your favourite part of working from home?
I can't deny that not having to spend an hour or so each day on trains and tubes is a definite positive! Being able to finish work and immediately start playing my guitar or reading a book in (relative) peace is a pleasant thing.
It's also quite nice being at home with my partner whilst she works. We sometimes pitch in to help each other out with the occasional issue. It's also nice to bounce ideas off of each other and get an outsider's view on certain situations.
Any bad habits?
Getting too engrossed and craning over my laptop for too long at a time is not good for my back at all so I really need to remember to watch that.
I also need to be careful during those moments when I am working on some documentation/project work whilst listening to music and start singing along too loudly – the (similarly locked-down) neighbours might not appreciate it so much!

Video conferencing app of choice?
We have generally been using Zoom for most of our discussions here, though I know there are plenty of others to consider and we have used Microsoft Teams for a few discussions as well.

Mornings without the commute – more sleep or more free time?
More sleep, sadly. I'd love to spend that hour doing something productive but my body and brain seem to be crying out for more rest at the moment!
And what do you miss most about going to the office?
Human interaction of course – seeing my Installsure and GGF Group colleagues and friends, speaking directly with peers, exchanging ideas and face-to-face contact. Video conferencing and telephone calls are fine to a point but I do believe that there is no substitute for direct discussion in most cases. Much of my role involves direct communication, the exploration of ideas, planning and strategising so I do miss being able to do this directly with the people involved.
I also miss the stimulation of moving around in London, the buzz of the city and the energy that comes from engaging with one of the most vibrant, dynamic cities on earth. I've been here for 23 years and still find London an exciting, surprising place to be with new challenges and experiences around every corner.
Coming into the office means that at the end of the working day, the city is on my doorstep to immerse myself in if I so choose. I've certainly been missing this during lockdown.
We may be working from home but we're still here to help
Should you have any questions about the Installsure range of insurance products & services, don't hesitate to contact our team.
--------------------------------
A day in the life of Frank Allain
What's your job title? Head of Operations at Installsure.
And what does that mean? Many things! It basically means I am responsible for the day-to-day running of Installsure as well as setting out and implementing longer-term strategies. It's a wide and varied role for sure.
How long have you been in the role? About three years, however I have been working for Installsure (or GGFi as it was then known) for over ten years now.
What time do you normally get up? Between 7:00 and 7:10 am on a workday. Later at the weekends!
What's for breakfast? Quick bowl of cereal – normally some sort of maple/pecan crisp affair.
Do you have a typical day? I'll normally check emails and review up-to-date business intelligence figures first thing after sitting at my desk to 'set the scene'. Following this, there's no such thing as typical these days – working in insurance can be quite reactive at times so dealing with escalated claims/queries can sometimes pop out of nowhere! Thankfully, we've an experienced and dedicated team in place and I'm lucky that a lot of these things can be resolved by them which enables me to focus on longer-term, potentially knottier projects. Reviewing key clients, marketing strategies, defining/testing new system development work, liaising with Insurers, budget reviews, accounting forecasts - all of these and more can hit my radar on any given day.
What are you working on right now? Well, there are a few things in the pipeline that I can't as yet go into too much detail about but I can say there are some exciting things ahead from a marketing and branding perspective. We are also hard at work making final tweaks to some IT development which should enable us to provide even greater levels of support to our clients.
Installsure is part of the GGF Group. Which Group colleagues do you work with most closely? Given that we transact a large volume of policies for companies that are registered with FENSA, I do interact with the team there on a regular basis. It makes perfect sense as we both need to be fully aligned with how we support a large number of both clients and homeowners.
Working closely with our colleagues in Borough IT is also something that is important to me – their systems underpin everything that we transact within Installsure and it is fundamental that these are maintained and improved to be as effective as possible. Luckily, the team there knows what they are doing and their technical know-how is invaluable to driving Installsure forward.
I also spend a lot of time with the Group Finance and Marketing departments as these are essential functions for any business.
What's the best thing about your role? The varied challenges, defining new strategies, the sense of meaningful involvement and seeing new ideas come successfully to fruition to benefit our clients.
And the worst? The frustration that can arise when things become delayed or don't work as expected. These can be learning experiences however, so even in adversity we take the positives out of the situation.
What do you like about working for Installsure? Having a close-knit and engaged team means we have a focussed, positive and friendly working atmosphere. There is a great camaraderie between ourselves and the rest of the Group businesses too – there's a wonderful sense of unity about the whole business at the moment which makes this a pleasant place to work. It also provides a good platform for us to deliver great service to our clients.
What book are you reading at the minute? 'King Beyond the Gate' by David Gemmell.
What TV series are you watching right now? This Life with Alan Partridge.
What was the last album you listened to? 'The Course of Empire' by Atlantean Kodex. Beyond epic.
What's your guilty pleasure? Ramsay's Kitchen Nightmares – I have all the episodes on my Skybox and sometimes dip into them if I feel I need cheering up by watching a man loudly swear about badly cooked food.
What do you get up to outside of work? I play guitar so rehearsing and working away in my (tiny) home studio takes up most of my non-work time. Alongside sampling craft ale when I can!
Finally, and most importantly, what's your favourite cheese? Montagnolo. So moreish we've had to effectively ban it in our house.